VyStar Credit Union is committed to supporting our heroes and their families by offering unique programs created with our heroes, for our heroes.
The Military Heroes Mortgage Program honors those that protect, serve and care for our country and communities. We offer a wide array of benefits, plenty of payment and closing options, and even provide you with your very own VyHero Mortgage Support Team. It's all about helping make buying a home easier, every step of the way.
Active duty, veterans and surviving spouses can take advantage of:
100% Financing
Savings of up to $5,000 in closing costs or choose a 0.25% rate discount1
Up to a $15,000 grant to be used towards a down payment and/or closing costs (restrictions apply, based on availability and approval process)2
Discounts up to $7,500 available from top national and local retailers and other additional benefits3
Ready to begin?
Fill out the form to connect with a Military Heroes Mortgage Representative, call directly at 1-800-445-6289, option 4 and enter x2660 or apply now.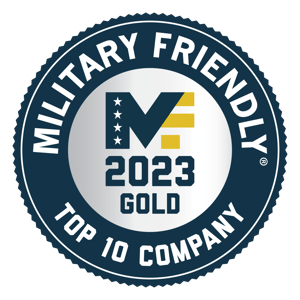 We are proud to announce that VyStar Credit Union has earned the 2023 Top 10 Military Friendly® Company designation from VIQTORY for meeting or exceeding the standard of recruiting, hiring and training of veterans and their spouses, our partnerships with Veteran-Owned Businesses and our brand's positive Military reputation.
Learn more about our EASY 7 STEP Military Heroes process!
Certain restrictions and limitations apply. All loans are subject to credit approval.
1Closing Costs OR 0.25% Rate Discount offer is not available on Loans $50K and under, Land, Construction Perm, Renovation Perm, HabiJax and Investment Mortgages. Available for first mortgage purchase or refinance. VyStar will pay borrower closing costs up to a maximum amount of $5,000 excluding origination fee and/or discount points, private mortgage insurance, FHA Upfront Mortgage Insurance Premium (UFMIP), condo document fees/condo approval fees, homeowners association fees, home inspections, costs related to deed changes, prepaid funds for homeowners and/or taxes, prepaid interest or funds to establish the member's homeowners and/or property taxes escrow account. If the borrower pays off the mortgage within the first 36 months, they will be required to reimburse VyStar for a portion of the closing costs paid by VyStar. Offer available for a limited time and subject to change without notice.
2VyHero Grant is subject to application and approval.
3Account activation is required to access discounts up to $7,500 from top national and local retailers.
Offers available for a limited time and subject to change without notice. ©2023 VyStar Credit Union.

P.O. Box 45085 | Jacksonville, FL 32232
904-777-6000 | 800-445-6289